Fate of Franz Kafka's literary heritage turns into nightmare ruled on by judge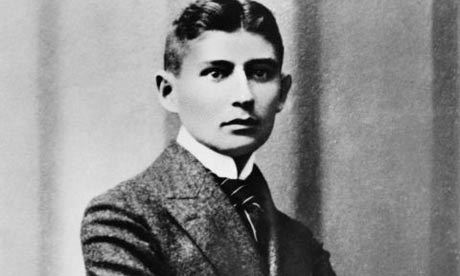 Franz Kafka … 'the loneliness of being among people'. Photograph: Bettmann/Corbis
If it were any other writer, today's unfolding of events in an anonymous bank vault in Zurich would be described as Kafkaesque. But the latest twist in a legal battle over the estate of Franz Kafka probably deserves some other adjective.
Four deposit boxes were prised open. Inside were manuscripts, drawings and letters from the Czech writer that had been locked away for more than 50 years, as Kafka experts around the world waited with baited breath. But the expectant Kafka enthusiasts, historians and critics will have to wait longer, after two Israeli sisters who insist they own the papers by inheritance from their mother banned all reporting of the boxes' contents.
They were opened on the orders of Talia Koppelman, a judge from the Tel Aviv family court. Last week she also ordered the opening of six safety deposit boxes in Israeli banks containing other Kafka works.
Today's unlocking at Zurich's UBS bank of safes sealed since 1956 was attended by lawyers representing, on one side, Eve and Ruth Hoffe and the German literature archive, and, on the other, the state of Israel and its national library.
A literature professor who is an authority on Kafka, Itta Shedletzky, was also present and will compile an inventory of the contents of the boxes.
If the Jewish novelist, who wrote in German while living in Prague, had had his way, the boxes would not exist. Shortly before his death from tuberculosis in 1924, Kafka wrote to his friend Max Brod: "Dearest Max, my last request: everything I leave behind me … in the way of diaries, manuscripts, letters … [is] to be burned unread." Brod refused to heed his dying friend's wish, saying it puzzled him. In 1939, on the eve of the Nazi invasion, he smuggled two suitcases of material to Palestine. During the Suez crisis in 1956, he moved parts of the archive to Switzerland. His action saved the manuscripts of The Castle, The Trial and Amerika.
After Brod's death, the papers and manuscripts became the possession of Esther Hoffe, his former secretary and later romantic companion who lived in Tel Aviv until her death three years ago. Hoffe refused repeated requests to hand the papers over to the state of Israel; once she was even arrested on suspicion of trying to smuggle some out of the country.
Following her death, Hoffe's daughters, Eva Hoffe and Ruti Wisler, have stubbornly insisted on their right to the documents. They have already sold some of them, including the handwritten manuscript of The Trial, to the German literature archive.
Although today's opening took place in secret, those who have followed the row talk of "literary gems"' to be uncovered.
It is known, for instance, that some pages from Letter to my Father, a hurt and angry text which he wrote in 1919 and which is seen as the key to understanding the author's mind, are among the contents. Other manuscripts in Kafka's hand include A Country Doctor, Wedding Preparations in the Country, and A Dream. They are estimated to be worth several hundred thousand pounds.
A tantalising glimpse of what might be in the boxes came when documents once in Esther Hoffe's possession were auctioned in Basle in 2009. One was a letter to Brod, in which Kafka stated: "I know allusions of the terror of loneliness. Not so much the loneliness of being alone, as that among people." Klaus Wagenbach, a German publisher who was close to Brod, described the letter in its entirety as "one of Kafka's most beautiful ever".
Meir Heller, lawyer for Israel's national library, said the Zurich hoard amounted to a national cultural treasure. "The documents have to be made accessible to the public in Israel," he said.
He asserted that a passage in Brod's will states that they should go to an institution in Israel on his death.
The Hoffes, he claimed, had been keen to "conceal the truth behind … the details of Brod's true will".
The Hoffe family has had access blocked to all parts of their mother's estate, including her money and jewellery, while the dispute continues.
The family says the state is intruding on its right to sell its private possessions, further arguing that Israel and the Israelis never had an affinity with Kafka, who did not live in Israel, though he expressed a desire to do so, and that Israel has not even named a street in his memory.
Their lawyer, Oded Hacohen, said opening the boxes would "damage my clients' privacy", and also restrict their ability to sell the items in the future.
A decision by Koppelman as to whether the documents should be made public is imminent.
Life and works
Franz Kafka was born into a middle-class Jewish family in Prague in 1883.
His most famous novel, The Trial, below, first published in 1925 in Berlin, later became a symbol of 20th century totalitarianism, seen to have predicted the horrors to come in the 20th century.
'Kafkaesque' is a word now used to describe everything from entrapment in bureaucracy to the general absurdity of life. Other works include The Metamophosis (1915), The Castle (1926), and Amerika (1917), below. Some were only published after his death.
His troubled relationship with his overbearing father greatly influenced his writings. Kafka's often unfulfilled love life is also the subject of much speculation, and his love letters to three women in particular have been much studied. The themes of alienation, persecution and hopelessness run through his work, which attracted little attention until after his death from tuberculosis in 1924 at the age of41.
While not much connected to Jewish religious life, he was fascinated by Jewish culture, particularly Yiddish. He is buried in Prague, and the house where he was born, just off the city's old town square, is home to an exhibition.
Originally published here: https://www.guardian.co.uk/books/2010/jul/19/franz-kafka-estate-legal-battle