We Are The 5 Percent: Being Non-Jewish at American Jewish University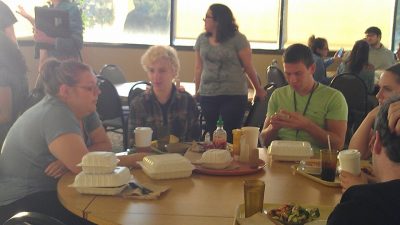 Aside from Israel, there is no question that Jews are a minority in most of world. Whether you are the only person at your office taking time off for the High Holidays or the only house on the block not decorated with Christmas lights in December, most Jews have felt small at some point or another.
Now, imagine a place where the numbers were reversed.
Welcome to the undergraduate college at American Jewish University in Los Angeles. With a population of 125 students, AJU's undergraduate College of Arts and Sciences is a liberal arts school affiliated with Conservative Judaism.
While the College of Arts and Sciences is not a religious institution, the university is "affected and infused by Jewish culture, values and practices," according to Dean Stuart Sigman. Although students are not required to be Jewish or practice Judaism, Jewish students make up roughly 95 percent of the population.
But this story isn't about that 95 percent. Attending AJU alongside the Jewish majority is a handful of students who are not Jewish. These students are a unique, valuable minority in a community where Judaism is the dominant culture.
Among these people are Chris Brown, 44, and Kelly Brown, 23, a married couple who are both beginning their studies as Jewish studies majors at AJU this fall. Both raised as Christians, Chris is an African born in Germany, and Kelly grew up in San Diego. Also Christian, Cameron Dean, 21, moved to Los Angeles in 2008 to attend AJU. He and Robert Locke, 28, are both African-American students at the university. Born and raised in Los Angeles, Locke grew up as a Nichiren Buddhist and was involved with Soka Gakkai International, a lay Buddhist organization.
While all a part of AJU's small non-Jewish population, each of the four individuals were drawn to the university for unique reasons and through different avenues.
The Browns learned about AJU through Rabbi Barney Kasdan, who was teaching a lecture on Jewish studies as part of their church's Bible study group for men. Chris was attending his sessions once a week for two months when he became fascinated by Judaism.
"I don't know what inspired me – I can't pinpoint it, but I was deeply touched by what Rabbi Kasdan was saying," reflected Chris, who later introduced Kasdan to Kelly.
"We discovered that Judaism is much deeper and richer than Christianity. There's much more to the Bible than just the New Testament, and Rabbi Kasdan tied the two perfectly together," Kelly explained.
Chris and Kelly began regularly attending Kasdan's synagogue and have not been back to church since. After Kasdan suggested that the couple consider attending AJU's College of Arts and Sciences, they moved to Los Angeles in 2011 and began attending AJU a year later.
Chris and Kelly both desire to use their knowledge that they are gaining about Jewish studies as an integral part of their future careers. Kelly, who identifies as a messianic gentile, aspires to teach Jewish studies at a Christian college, while Chris hopes to eventually convert to Judaism and become ordained as a Conservative rabbi through AJU's Ziegler School of Rabbinic Studies. While he and Kelly currently attend services at Beth Emunah Messianic Synagogue in Agoura Hills, Chris views Messianic Judaism as a transition from Christianity to more traditional Judaism.
"I am about 70-30, leaning towards conversion, but I want to know something about what I'm doing," he explained. "I want to become more knowledge about Judaism before I convert if I decide I want to."
For Dean, the decision to attend AJU came after discovering the university online. Dean said that when considering potential colleges, he never looked at AJU as a Jewish school, viewing it essentially as a "regular college no different from any other school," despite its majority Jewish population. As such, he preferred AJU over other colleges due to its small population, commodious dorms and flexible academic options.
Locke learned about AJU when a friend invited him to an open house for the school's MBA Nonprofit Management Program, and was drawn to AJU due to his desire to open interfaith dialogue within a new culture.
"[AJU's Jewish affiliation] made it that much more of a blessing, because one of the things I want to do is be able to build bridges and help bring cultures and people together," Locke said. "To be able to learn in a Jewish environment is a great opportunity for me to learn a lot about overcoming superficial barriers and differences."
Locke, although majoring in international business, ultimately wants to be an educator. After receiving his undergraduate degree and graduate degrees, he wants to travel the world before going into teaching.
"Experiencing different cultures is the best way to learn," said Locke. "After that, I want to utilize my knowledge of business to go into education, which is also a nonprofit business."
While Judaism was the primary reason why the Browns chose AJU, the university's affiliation was a positive but secondary factor in Locke's decision and a neutral factor for Dean. Consequentially, all four students have been affected by the presence of Judaism at AJU in their own ways.
"When we first started, we anticipated that people might not understand why we came, but it has been the opposite," Kelly explained. "They just seem happy for us and excited that we are gentiles pursuing Judaism."
Locke, on the other hand, says that while most of his peers have been genuinely curious about his religious background, there have been a few occasions when students reacted in a distrustful manner. He explained that in these cases, students have approached him with palpable discomfort rather than outright hostility.
"When I'm questioned, I see it as a fear of the unknown and of my intentions," he said. "Some, very few, have questioned me from a sense of fear, but the majority [of people] have simply asked questions out of appreciation and curiosity – I don't have anything but a positive outlook on this whole experience."
Similarly, Dean believes that while there is a strong Jewish presence within the student body and faculty, Judaism has never been forced upon him by either the curriculum or the people at AJU. Yet he recalls that the heavy exposure to Jewish people and ideas during his first year at AJU made him question his religious beliefs. He remembers the two-week orientation at the beginning of his freshman year as one of the most confusing experiences for him.
"We did so many Jewish traditions, and everyone there already knew most of the stuff or believed it heavily," Dean explained. "It was odd being the only person thinking, 'What is he talking about?' I felt physically and religiously out of place, because I don't think a lot of people understood me or why I was there."
Now a senior graduating in May, Dean feels that he has developed a strengthened sense of identity since the initial disorientation of his freshman year.
"It was ok to go through that confusing period, but since then, I've been able to think clearly, and I think I've figured it out for me, what I believe," he reflected. "There have been ups and downs, but AJU is what you make of it. This place is great, and I've met some amazing people."
And so despite being 95 percent Jewish, the College of Arts and Sciences at American Jewish University has an unexpected diversity of non-Jewish students who have all found something positive to gain from attending the predominately Jewish university.
Originally published here: https://newvoices.org/2012/11/20/we-are-the-5-percent-being-non-jewish-at-american-jewish-university/