Minutes before Shabbat falls upon the home of Rabbi Sandra Lawson and her wife, Susan Hurrey, the rabbi rushes to complete her final preparations.
As a rabbi at Elon University, these preparations can include perfecting her drash, brainstorming just one more group discussion question, or practicing another alternative melody for Friday night services.
On campus, students wander from their dorms to the nearby Elon Oak House for drinks. Meanwhile, Melissa Horowitz walks across the leafy pathways towards Numen Lumen, a sacred space on Elon's campus where services are held.
Horowitz, co-president of Elon Hillel, cannot remember a time when she was not involved in Jewish life. In Potomac, Maryland, a heavily Jewish suburb of Washington, D.C., her high school extracurricular activities were sprinkled with Jewish youth group meetups and Sunday school teaching gigs. After arriving at Elon, she jumped into Jewish life on campus.
At Numen Lumen, around 30 students have gathered inside. Shortly after, Lawson arrives and begins greeting students, emanating warmth.
"I think her greatest strength is her ability to just know whenever someone needs a hug," Horowitz says. "And she gives the best hugs."
The first Friday of the month is always special at Elon Hillel. First Friday Shabbats are the most popular on campus, with students of a range of identity and practice sharing sacred space and listening together to Lawson's drash.
When Lawson first arrived on campus, students were eager to ask her questions, about everything from her path to the rabbinate to the philosophical "What does it mean to be Jewish?"
Profiles from the Times of Israel, Philadelphia Inquirer, and Religion News Service have nearly tripped over themselves in their reporting of Lawson. Sandra Lawson, after all, doesn't fit many people's imaginings of a rabbi, and in some cases, even a Jew. Black, lesbian, Jew-by-choice, intermarried, and veteran are not common traits among Lawson's peers in the rabbinate and are marginalized identities within broader Jewish community.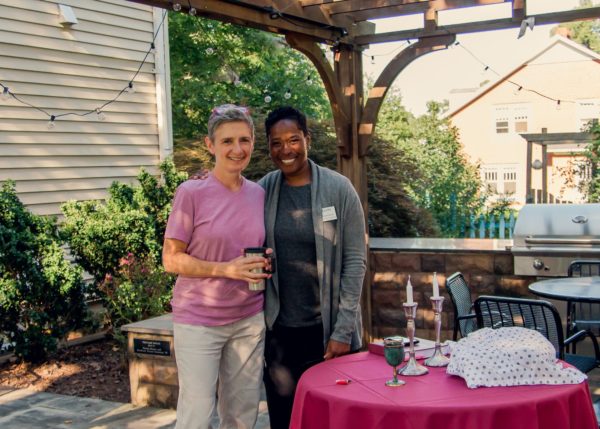 "It tends to be, 'oh she's black, oh she's queer, and a rabbi. Can you believe it!?'" explains Rabbi Ariana Katz, founding rabbi of Hinenu, a Baltimore social justice shtiebel, and former classmate of Lawson's at the Reconstructionist Rabbinical College (RRC).
For Lawson, even being an ordained rabbi fails to eliminate the prodding questions that plague many Jews of Color in communal spaces. These questions can range from microaggressions to the blunt "Why are you even in this space?"
Many, such as Rabbi Jessica Rosenberg, another RRC classmate, have learned from watching Lawson navigate these challenges. "She is often asked to teach as soon as she walks into a Jewish space, just from being the first out, black, Jewish, lesbian rabbi that many people are knowingly encountering. She taught me the power of deciding when and how much to engage, and to not ever let anyone else define you or your Judaism."
At Elon Oak House, Rabbi Sandra spoke with me about her Jewish journey, including the unfortunate stories of racist experiences that she has faced.
While at RRC, like many students, Lawson found herself teaching Hebrew at a religious school of a Philadelphia area congregation. The religious school encouraged teachers to use their Hebrew names, but Lawson felt uncomfortable with it.
"Students at that age are really impressionable. If they see me in public and call me by my Hebrew name and I don't answer because I'm not used to being called by it, they would be crushed."
Lawson compromised by using both her English and Hebrew name in class. Frustrated, the religious school director proceeded to try and teach Lawson, a rabbinical candidate, how to spell her own Hebrew name in front of the entire class. The religious school director was fired, months later, for another incident of a similar nature not involving Lawson.
Since the beginning of her time in rabbinical school, Lawson knew that she wanted to find a position in the South after graduation. Frustrated with the cold of Philadelphia, she also felt called to join the justice work happening in many southern states, especially around housing, poverty, and healthcare.
Well aware that she would serve predominantly white Jewish populations, Lawson believed that it would be a positive experience for many of the interfaith partners that she works with on social justice issues to meet her as a Jewish leader.
Being a rabbi in the South, however, comes with its fair share of challenges, many stemming from the fact that Jewish communities are smaller than in Northern hubs. This means fewer job openings, coupled with concerns about survival, growth, and sustainability of shuls serving aging populations. And, Lawson says, "Many Southern Jewish communities…are simply not prepared to have a black, queer rabbi."
However, when Lawson accepted a job with Elon University and moved with her wife to North Carolina, the trepidation was mixed with tremendous excitement.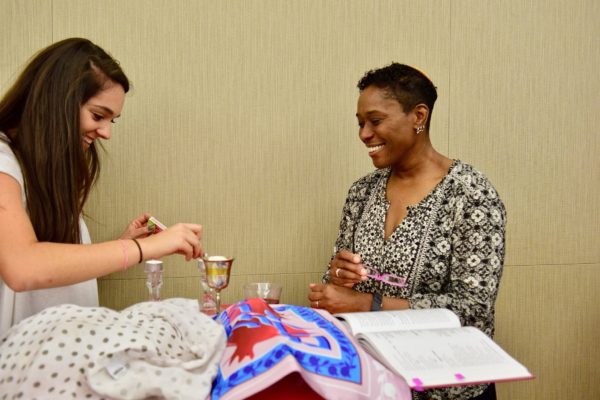 Lawson didn't have much time after arriving on campus before the whirlwind of the High Holidays began. In fact, many students' first interaction with their new rabbi was her request for their participation in Rosh Hashanah and Yom Kippur services.
Some students had fears about helping to lead ritual for the first time. "I had a student who practiced with me but told my colleague that he was nervous," Lawson says, smiling. "My colleague says to him, 'Rabbi Sandra said that you did fine.' And he was perfectly fine."
Lawson remembers hearing about another university employee asking a student, "Do you want me to tell you this like an advisor or like your auntie?" Lawson describes her approach as definitely more auntie. Brutally honest yet caring, with a side dish of humor to wash it all down.
"I think this year's Jewish calendar will make it much easier to build a relationship with incoming students and to grow with students that are already returning," she says. "I'm looking forward to big things."
Back at Numen Lumen, Melissa and others make their way into the sanctuary as the Kabbalat Shabbat service begins. The words of Lecha Dodi, guided by the rabbi and the strings of her guitar, fill the air.
As she begins her drash, Lawson makes a slight adjustment to her tallit. "I try my best to keep services under an hour, but I don't like to be contained to an hour so I'm not very strict," she says to the gathered students.
After the service, everyone exits the sanctuary to return to the Hillel House where an oneg awaits. Lawson's wife Susan presents her homemade vegan challah for the rabbi to bless and the students to nourish themselves with. Despite many requests, neither Susan nor the rabbi will give up the secret recipe.
Later in the evening, the rabbi sits barefoot on the steps of her porch in Burlington, placing her guitar against her as she sings the blues. In the beginning of her "Barefoot and Blues" adventures, she sang old favorites. Lately, in true form, she has begun writing her own songs.
Originally published here: https://newvoices.org/2019/10/23/rabbi-lawson-says-hineni/