Thursday's intriguing people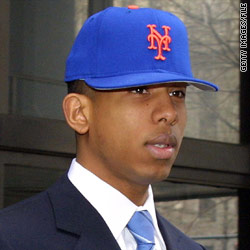 Released last year after serving nine years in prison and deported to his native Belize, Shyne easily could have kicked it in Central America. His dad, after all, is the Belizean prime minister.
Instead, he went to Israel in September to explore Judaism, something he'd been interested in since he was a teen when he started reading the stories of King David and Moses, he told The New York Times. His Ethiopian grandmother may have been Jewish, the paper reported.
"There's nothing in the Chumash that says I can't drive a Lamborghini," he told the newspaper, "nothing in the Halacha about driving the cars I like, about the lifestyle I live."
In March 2006, while incarcerated in the Clinton Correctional Correctional Facility in Dannemora, New York, Shyne legally changed his name from Jamal Michael Barrow to either Moses Levi, Moses Michael Leviy or Moshe Levy Ben-David, depending on the media outlet reporting the story. He told The Times that he became a practicing Jew under the tutelage of the rabbis in prison.
In a YouTube video, he explained his rationale: "You look at any other science, it all goes back to Judaism. They say Abraham is the father of all religions. So for me, I don't want to talk to the middleman. I want to talk to HaShem. I want to go straight to the boss."
So, the rapper who once boasted of "leavin' piece of your brain on your car" now wants to share Jewish values with youth. He told The Jerusalem Post he will continue focusing his music on urban life, but is omitting the n-word and misogyny from his lyrics.
Def Jam Recordings plans to release his albums, the aptly named "Messiah" and "Gangland," next year.
Paul Napoli
The attorney for most of the 9/11 first responders has almost reached a deal with the city of New York over illnesses stemming from the responders' exposure to toxic dust at the World Trade Center.
The deadline for the responders to accept a $712 million settlement passed Monday, but it was extended to November 16.
For the deal to pass muster with the federal judge, 95 percent of the roughly 10,000 plaintiffs have to accept the deal. Napoli said that as of this weekend, 92 percent of the plaintiffs had agreed.
"I'm very optimistic there will be a deal, and it will be done," he said.
In addition to the money from the city, the plaintiffs could receive about $103 million from other defendants and possibly as much as $7.4 billion via a bill making its way through Congress.
One first responder told WCBS-TV in New York why the decision on whether to accept the settlement was so difficult.
"(If) I take the settlement now and I get sick down the road, I don't know if there will be any money left. I have three children I gotta get through school," said Glen Klein, who ultimately accepted the settlement.
According to the New York Daily News, more than 900 ground zero responders have died, and no one knows what killed them.
Several family members told the newspaper it was emotional to watch their loved ones suffer and die without any written standards to help doctors diagnose their conditions.
Joe Zadroga said he watched his son, a police officer, slowly die from scarred lungs, yet no official cause has been named.
"I mean, we knew what he died from. We dealt with it for four years," Zadroga told the Daily News.
Spc. Jeff Hanks
The 30-year-old AWOL Army infantryman plans to turn himself in Thursday at Fort Campbell, Kentucky. He told a television station he has no problems returning to Afghanistan, but he needs help.
Hanks said he suffers post-traumatic stress disorder stemming from his tours in Iraq and Afghanistan. He told WSMV-TV in Nashville, Tennessee, that he suffered a concussion when a mortar exploded outside his compound in May.
On leave in September, his family noticed a difference in him, he said.
"When your 5-year-old and your 3-year-old sit you down and they talk to you because they're worried, that really opens your eyes, and I knew then I needed help," Hanks told WSMV.
He said he sought help for PTSD, to no avail, and last month, when he was scheduled to return to Afghanistan, he instead refused to board a plane to Afghanistan via Kuwait and walked out of the airport.
"When it comes to my mental health, the way that I feel, that's more important to me. I'm going to be a father a lot longer than I'm going to be in the military," Hanks told the station.
Iraq Veterans Against the War said Hanks has been living in Virginia with his wife and two daughters. The group says he is receiving medical care as well as moral and legal support.
Members of the group are expected to accompany Hanks when he turns himself in at 3:45 p.m. Several news outlets are reporting he could face a less-than-honorable discharge or jail.
Originally published here: https://news.blogs.cnn.com/2010/11/11/thursdays-intriguing-people-35/